Maurras l'indispensable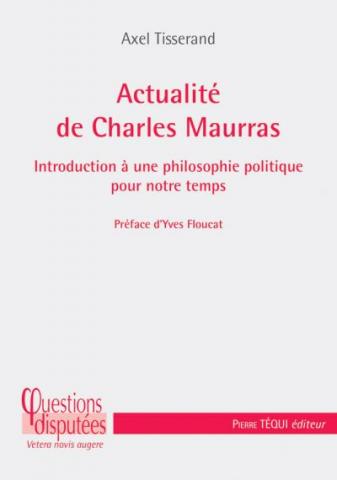 Peu de penseurs ont été l'objet d'autant de calomnies ; peu ont eu à faire face à autant de mensonges ; peu ont vu caricaturer leur pensée au point de la réduire à des détails ou à des slogans. Pourtant, alors que le système républicain est à bout de souffle et la fracture ne cesse de s'aggraver entre la société et la classe politicienne, Charles Maurras (1868-1952) est d'une extraordinaire actualité avec sa doctrine structurée qui repose sur deux piliers : la Nation et le Roi, c'est-à-dire très précisément le « nationalisme intégral ».


C'est le mérite d'Axel Tisserand de décrire d'une manière éclairée et lucide cette doctrine qui, durant le vingtième siècle, a inspiré – ou plutôt éclairé – une grande partie de l'intelligentsia française et occidentale, de l'Amérique latine au Liban en passant par le Québec, le Portugal ou la Roumanie. Le président Charles Hélou nous confiait jadis qu'il lisait régulièrement le quotidien « l'Action française » et il avait gardé une admiration sans limite pour la pensée de Maurras qui était, selon lui, le doctrinaire indispensable dont il faudra bien un jour retrouver les intenses leçons de vie.


Car toute l'œuvre de Maurras est un hymne à la vie. S'il est nationaliste c'est parce qu'il a la conviction que, grâce à la nation, l'individu périssable et la société périssable défient la mort et le néant. De nos jours, face à la menace d'un monde globalisé et uniformisé, sous l'emprise d'une conception uniquement mercantile de l'humanité, la nation est donc le symbole de la vie de l'espérance. Si Maurras s'oppose en tout point à l'idéologie à Rousseau qui commence « par écarter les faits » et conçoit un individu isolé, c'est dans la mesure le maitre de l'Action française, dans la tradition d'un Aristote ou d'un Thomas d'Aquin, rappelle que l'homme est un animal social – ou plutôt politique. Il faut toujours en revenir à cette réalité. Et Tisserand souligne avec raison que l'anthropologie politique de Maurras permet de discerner et surmonter les impasses de notre monde moderne : relation homme-femme, théorie du genre, destruction de la famille, PMA pour tous faisant de l'enfant un objet de consommation, opposition entre les hommes enracinés et les gens de nulle part (V. David Goodhart, The road to somewhere)…


Au total, Axel Tisserand peut souligner que Maurras propose une philosophie politique pour notre temps. C'est tout l'objet de son essai sur le penseur du nationalisme intégral.


Lire : Axel Tisserand, « Actualité de Charles Maurras », éditions Téqui, Paris, 2019